CEDR UNN GETS NEW DIRECTOR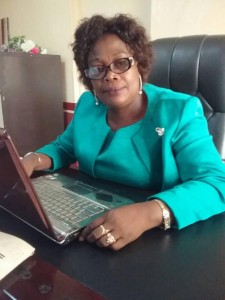 Prof.(Mrs.) Chika Oguonu, on assuming office in 2017 as the sixth and the first female Director of the Centre for Entrepreneurship and Development Research (CEDR) made clear the blue print of her vision and goals for the Centre. She swung into action by giving the CEDR a structural face lift within few weeks in office.
Prof. (Mrs.) Chika Oguonu, an erudite Professor, astute leader and seasoned administrator has put her wealth of experience into practical operations. Being a result oriented leader and promoter of team work, she has successfully energized and motivated her staff by introducing a creative and strategic work plan that is all inclusive to ensure effectiveness, productivity and optimum output in line with the Centre's mandate.
Following up some major activities of the Centre, she has put measures on ground to ensure more effective and efficient teaching of CED 341 & 342 courses. Not relenting in any area of our service delivery, the Director has re-organized the existing committees and constituted new ones to match the scope of work that represent her vision for the Centre.  She has facilitated the reviving of some programmes of CEDR which has been in moribund state. These programmes include Business Enhancement Training (BET), Vocational Skill Acquisition programmes, Entrepreneurship Day Celebration, and occasional Workshops/Seminars. Prof. (Mrs.) Oguonu has also made very positive move to revamp existing relationships between the Centre and some of her strategic partners. The Director has gone further to secure other prominent partnerships both local and international for global relevance.
The Centre today is wearing a pretty look, with highly enthusiastic and well motivated staff united to set the pace other contemporaries will follow. It is obvious, the Centre will contribute significantly to the realization of the dreams of the present administration of University of Nigeria, Nsukka , which is to make UNN  an entrepreneurial and world class University through the action oriented leadership of Prof.(Mrs.) Chika Oguonu.
See Director's Profile